EPISODE 373 POISONOUS PARSNIP – EXPLOSIVE GROWTH…DEADLY PLANT…LOOKS LIKE QUEEN ANNE'S LACE
Alan skeoch
June 19, 2021
"Alan, look what grew in the perennial garden. Is it a flower or a weed?"
"Not sure…looks sort of like Queen Anne's Lace but twice the size."
"Should we pull i out or let it flower?"
Quite stunning to look at."
"Are you sure it is not Hogweed…the killer of the fence row."
"Don't touch it just in case. Hogweed sap can make a person blind…even kill."
"Too small for Hogweed."
"Give Andrew a call."
"Tempted to pull it out…to cut it at the base."
"Do not do a bloody thing."
"The plant grew fast…seems it was so small and now it is 3 feet high and getting higher."
"Scares me."
"Give Andrew a call now."
"I will need pictures…"
"Pictures? PICTURES!!!"
"Give Andrew a call now."
"ANDREW, There is a STRANGE plant growing in centre of the garden…looks
like Queen Anne's lace but bigger and greener."
"Do not touch it Dad…get away."
"Why?"
""Wild Parsnip..for sure…sap will burn your skin…REALLY BAD…GET AWAY FROM IT."
"But the plant is in the centre of the perennial garden."
"I will get it tomorrow…need to be careful…gloves, mask, long pants…need to
dig up the wild parsnip roots as we'll."
"Marjorie is worried about her perennials."
"Danger, dad…real danger…the sap can torture…"
How did it get here? Wild parsnip loves disturbed ground. Gardens..road shoulders…hiking trails.
EVIDENCE…NO JOKING MATTER…LOOK AT THE BLISTER WHEN THIS LADY
ACCIDENTALLY FELL INTO SOME POISONOUS PARSNIP. DO NOT TOUCH THE PLANT
WITH BARE SKIN…TAKE PRECAUTIONS .
alan skeoch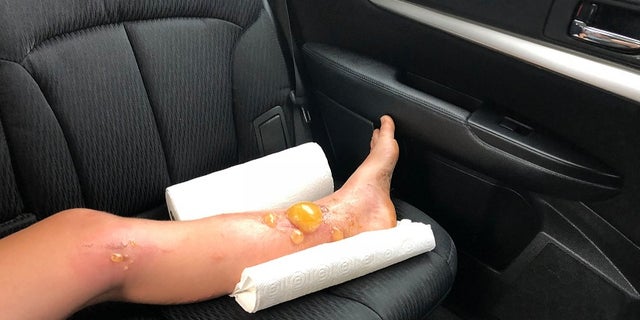 WARNING: ARTICLE CONTAINS GRAPHIC IMAGES
A Vermont woman who received the equivalent of second-degree chemical burns to her legs after falling into a wild parsnip plant is warning others about the dangers of the seemingly harmless herbage.
Around the first of July, Charlotte Murphy, of Essex, Vermont, was traveling to the southern part of the state for her internship with a local artist. When she stopped on the side of the road, she lost her footing and fell into the plant, breaking it, causing the sap from the wild parsnip plant to come in contact with her bare legs.